Published:
2019-04-15 at 10:41
Edited:
2019-04-15 at 10:43
Toni Kliškić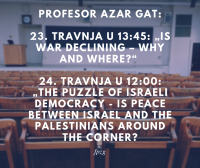 Professor Azar Gat will be visiting the Faculty of Political Science on April 23 and 24. Azar Gat is a national security professor at the University of Tel Aviv. In 1986 he received his doctorate from the Oxford University. His research interests include: the causes and evolution of war, military history and theory, military strategy and nationalism.
We would like to invite all exchange students to guest lectures:
"Is War Declining – Why and Where?" to be held on April 23 from 13:45 to 15:15 in Room B.
"The Puzzle of Israeli Democracy - is peace between Israel and the Palestinians around the corner?" to be held on April 24 from 12:00 to 13:30 in Seminar III.
News list