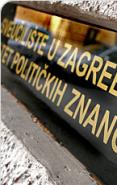 Faculty of Political Science of Zagreb University is the oldest political science educational and research institution in this part of Europe and the only programme of political science in The Republic of Croatia.
Faculty of Political Science of Zagreb University was founded by the Parliament of the People's Republic of Croatia on February 23, 1962. In November of the same year political science program enrolled its first students. At the time, the Faculty was the first academic institution of this kind in the communist Eastern Europe and right from the beginning it operated as a research and higher education institution within the University of Zagreb, equal to other faculties of the University. Essential element of the Faculty development was its academic autonomy which enabled it to weather political pressures and power swings within the regime. In 1971 a two year journalism schools was launched in parallel to political science program and it soon became a four year university program in journalism.
Generations of political science and journalism graduates have earned their BA, MA. and PhD degrees at the Faculty of Political Science, among them current academic and high school lecturers, scholars, government ministers and members of parliament, mayors, diplomats, journalists, publishers, media analysts and PR experts.
As the oldest Faculty of Political Science in Central, Eastern and South-East Europe, offering political science program since 1962 and journalism programs since 1971, Faculty of Political Science is an academic institution whose mission is acquisition and transfer of knowledge about Croatian state and politics, society, media and its international environment.
Through its research, educational and public activities, the Faculty promotes democratic values, institutions and political culture and offers its academic expertise to the public in the process of public policy development and implementation and making of collective decisions. Evidence based policy making has become even more important since Croatia joined the EU, and the Faculty of Political Science, along with other University entities, sees it as its mission to contribute to these processes.
Since academic year 2005/2006 political science and journalism programs have been reorganized according to Bologna model into undergraduate and graduate programs. The Faculty also offers 11 postgraduate specialist MA programs. Faculty also has an integral doctoral program in political science.
Undergraduate Programmes
The Faculty offers two undergraduate programmes: political science (four-year undergraduate programme) and journalism (three-year undergraduate programme). Upon completion of these undergraduate programmes the student is awarded a Bachelor of Arts degree in political science i.e. Bachelor of Arts degree in journalism.
Graduate Studies
The Faculty offers graduate programmes in political science (one-year graduate programme) and in journalism (two-year graduate programme). Upon completion of the graduate programmes of study the student obtains a Master of Arts degree. Graduate programme in English language Master of European Studies is one-year programme.
Postgraduate Studies
The Faculty also offers a three-year doctoral programmes in Comparative Politics and in Political Science. The Faculty currently offers the following specialist postgraduate studies: Local Democracy and Development, Public Relations, Regional Comparative Studies of Central and Southeast Europe, Security Policy of the Republic of Croatia, Foreign policy of the European Union, Foreign Policy and Diplomacy, Foreign Policy and Diplomacy, The Media in the Digital Age i Adapting to the European Union: The Project Management and the Use of EU Funds and Programs.
In 1996 the Faculty founded its own radio station, Radio Student, adding to the quality of its journalism program through interlinking of academic and practical skills and encouraging student creativity. In 2012 it was joined by Student Television, and both media are autonomously run by students, under the guidance of faculty members and associated experts. In 2014 the Faculty launched student newspapers Global. Faculty has a rich publishing activity which includes book edition Politička misao [Political Thought] with over four decades long tradition with close to 70 titles published by Croatian and foreign authors in political science and other social science disciplines, and also Političke Analize [Political Analysis] founded few years ago. The Faculty publishes five journals.
In fulfilling socially responsible dimension of its mission, the Faculty has been recognized as a research institution that can offer expert knowledge and advisory services to various stakeholders in the process of public policy development, with an emphasis on supporting active Croatian EU membership and full utilization of its development potential. Faculty members participate as advisors and members of various working groups within different government bodies, especially in the areas of national security, elections, public administration reform, social policy and educational policy with an emphasis on civic education. Faculty members teach public policy courses at the State School for Public Administration and are mentors to high ranking civil servants attending the school.
Faculty academics are also active commentators of political decision making processes dealing with various topics of public interest. They provide independent assessment of different social issues and developments, and offer solutions to social problems, contributing to the development of democratic political culture in Croatia. They do so through appearances in electronic and print media, and articles in expert and professional publications. Faculty academics regularly participate in professional and public gatherings and debates organized by the Faculty addressing relevant social and political topics. Argumentative discussion regarding decisions of public interest is encouraged in student media as well. Student radio and television provide socially engaged content based on supporting the idea of common good, to inform and educate, but also to increase standards of responsible behaviour towards society and environment as well as standards of critical thinking.